Here is a photo that caught my attention as it made its way through the "Twittersphere." I'm hoping that our month of March will look more like Victoria then Moncton here in southern Alberta.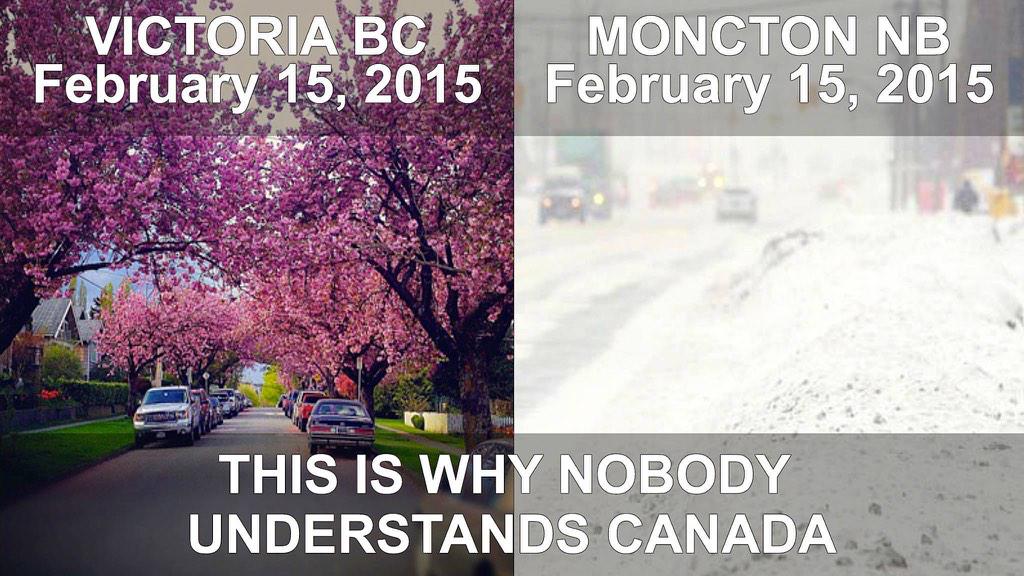 Every March, the fine arts comes alive in two of our Lethbridge schools with the annual staging of their musical  productions. This year, Catholic Central High School will be performing Anne of Green Gables from March 6-14 and St. Francis will be hosting Annie from March 10-15. I've attended productions from both schools in the past, and always leave, amazed at the talent of our students, their high levels of performance, and grateful for our staff who work tirelessly behind the scenes. It is a wonderful evening out for the entire family and I would highly recommend attending these showcase productions. Please click on the links of each school for ticket information.
At the regular meeting of the Board of Trustees, the Infrastructure Maintenance and Renewal (IMR) Plan was approved. This plan looks at all schools and prioritizes the projects based on high, medium or low need. To assist in setting those priorities, the Division works with a local engineering firm (MPE Engineering Ltd.) to provide additional expertise and ensure all projects fit within the strict IMR funding guidelines. Alberta Infrastructure requires that a 3-Year Capital Plan be submitted each year. Last year, the Board requested we look beyond the 3-year envelope and produce a 10-Year Capital Plan. Working with FWB Architects and the City of Lethbridge, we reviewed projected enrollment and population data, conditions of our schools as well as other local contextual factors. The result was a 10-Year Capital Plan that was approved by the Board last week. This plan should serve our division well into the future.
Although not always understood or even visible, the 10-Year Capital Plan links well to the advocacy role of the Board which was also front and center at the meeting. When I left the principal position of St. Patrick in 2001, design plans were underway for the replacement of St. Mary in Taber. Since then, the Board of Trustees and Senior Administration, both then and now, have quietly gone about their advocacy role to deliver the following capital projects:
New School- St. Mary School (Taber)
Modernization- Ecole St. Mary (Lethbridge)
Modernization- St. Joseph School (Coaldale)
New School- St. Paul School (Lethbridge)
Modernization- St. Basil School to Catholic Education Centre (Lethbridge)
New School- St. Patrick Fine Arts Elementary School (Lethbridge)
Modernization- St. Catherine School (Picture Butte)
New School- Catholic Central High School Campus West (Lethbridge)
Modernization- St. Michael School (Pincher Creek) in progress
New School- North side elementary (Lethbridge) in progress
Value Management Study- St. Patrick School (Taber)
Numerous modular classroom throughout the Division
The Board's advocacy role will likely be in high gear given some early indicators of the upcoming provincial budget. We have done some preliminary forecasts using 5%, 3% and 1% reduction in government revenues as well as a 0% increase. None of these scenarios are palatable! As more information becomes available about the budget, I will share what I can. I'm not prepared to sit and point fingers at any government on the management of funds as I know it is a complicated and complex process. However, it is easy for me to stand up and advocate for ALL the children in our schools and the required supports for teachers to meet their increasingly diverse classroom needs.
One of the advantages of our school division is our continual focus on learning, not only for students and staff but for parents as well. This coming Wednesday, March 4th from 6:30 PM – 8:00 PM, St. Francis will be hosting a Social Media Awareness Night.  This is an excellent opportunity for parents to find out what's hot and what's not for teens using Social Media and share tips with other parents on how to set your kids up for social/emotional success. Please contact the office at St. Francis for more details. With our Catholic faith being central to everything that we do, our entire division will come together for our annual Spiritual Development Day on March 9th. The principals will continue their own Lenten journey as they gather with Senior Administration for their retreat on the afternoon of March 10th. Cognitive Coaching training begins this month for our leaders and our teachers will begin round 2 of grade level meetings. The focus on learning cannot be under-emphasized as we continue to grow and improve as a Division.
I want to close this message with a sincere thanks to all of our staff who are continually meeting the needs of our students using innovative practices and engaging pedagogy.  I am thrilled, when I can travel nationally and showcase what "little Holy Spirit" in southwest Alberta, is doing to achieve such remarkable success. I'll be witnessing another great example of this when I travel to St. Catherine School in Picture Butte on Tuesday and watch their Project Based Learning presentations on Human Rights! This cross curricular project is perfectly aligned with our desire to engage students in meaningful ways and is where our journey in Holy Spirit is taking us.
Have a wonderful March!